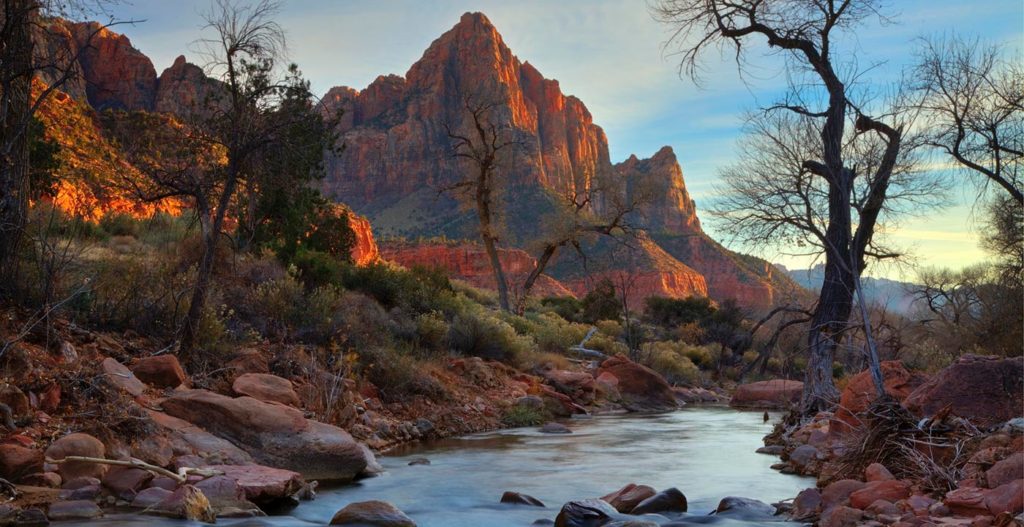 There are plenty of hiking trails in Zion Canyon to explore, and it is a popular place for hikers and walkers alike. The Zion National Park is situated in the southwestern area of Utah. The extraordinary geography that is the Zion National Park creates the stunning Zion Canyon. Created over thousands of years from the Virgin River; cutting through the Navajo sandstone and originating from snow drifts from the Markagunt Plateau, this is an unmissable place to visit. The Zion Canyon itself is almost desert like with cobbled banks filled with cottonwood, ash trees, willow and elder.
The majority of maintained trails in the National Park are marked in a number of ways. At certain trail junctions, hikers will find signposts indicating the number and/or the name of the trail, but hikers are advised not to rely on these because the weather erodes the information displayed on them and sometimes they are even removed and taken away by visitors. It is strongly advised not to rely on the trail signposts for information on mileage. And, if you're hiking with a group of friends, take the outdoor GPS tracking device to share real-time location of each member.
Hiking Trails in Zion Canyon: Key Markers
Along the various hiking trails, there are countless markers which indicate their location, and hikers are advised to learn what these various markers represent. In a densely forested area, blazes, or cuts made into the bark of trees are found next to the main paths. Where trails cross a gravel stream bed or bare silk rock (which can be extremely slippery), cairns will mark the route. Cairns are simply piles of rock, typically three or more rocks arranged in a pile. They are relatively easy to spot because this type of formation does not appear in the natural environment.
Where the trail runs through an area of extensive overgrowth, markings can be almost impossible to find. In this instance, hikers are advised to look out for techniques that have been used to create the trails in the first place will provide clues as to the location. A well-constructed trail will have a particularly wide and flatbed. If you follow your feet to seek out flat areas when travelling through dense areas of overgrowth, more often than not you will find yourself on the right track.
If you are trying to locate a trail that has simply disappeared, look around the area and use your logic to determine the place that would make the most sense to build a trail. When trails are built, they are often constructed on the flat ground, often following natural paths of ridgelines and stream courses.
As you navigate your way around one of the various hiking trails, there is only one option really if you want to stay overnight. If you want to extend your adventure, there's the Rustic Zion Lodge situated approximately three miles from the park entrance. There are also three camping areas in the area, the Watchman Campground, South Campground and the Lava Point Campground. There are many hiking trails in Zion Canyon to enjoy provided that you prepare and understand how to navigate this challenging terrain.