Madrid is a big city that is usually underrated. There is no reason why and If you go to the Spanish capital, there is no point in walking around the Plaza Mayor all weekend. 
Here we present tips for those who want to experience the real Madrid. ¡Que Bueno! and don't forget to enjoy the fiesta feeling like never before.
Play Golf at Some of the Best Credited European City Courts
There is an increasing trend among visitors to Spanish capital who arrive exclusively to play this beautiful sport. If you are one of those people who enjoy this game more then any else we highly advise that you check all the famous courts around the city. 
Just don't forget to bring your wrist brace for tendonitis to protect your hands while playing the long hours. Many visitors complain about how they feel the unpleasant feeling in their hands. Especially if they are beginners, so don't let the little mistake ruin your holiday and get your model. Some of the best clubs that you can find in Madrid are Real Club La Moraleja Campo 2, located at Camino Viejo del Cura, 76. Another very popular one is Club de Golf Olivar de la Hinojosa, located at Vía Dublín.
Enjoy the Best Bachelor Party Options
It's no secret that Madrid's nightlife is one of the best in this part of the world. Among the most credited nightclubs of the Spanish capital, you will find the best parties for a bachelor's night. It gets very tricky to see the best choice to fulfill all your tastes. But the good news is that wherever you go, you will find fantastic opportunities. 
Moreover, one of the reasons Madrid's bachelor parties are so popular lies in the fact that simply every soul can find just the right type or style of entertainment to enjoy. Once the night falls on the paved streets of the Spanish capital and everyone leaves their homes in search of fun. You won't have any reason not to join them and let the night unfold in a mysterious direction.
La Latina Tapas
Tapa bars are compulsory when you are in Madrid. Head to La Latina, the slightly worn-out neighborhood south of Plaza Mayor, and settle down at one of the bars at Plaza San Andrés, in the middle of medieval Madrid. 
Some tourists find their way here, but here also madrileños enjoy themselves in the late evening hours.
Popular Eatery – The Bazaar
There is no shortage of restaurants in Madrid. If you want to eat somewhere that is both trendy and cheap, you should go to The Bazaar. 
Here you get modern tapas (light dishes) of different kinds at very friendly prices. The Bazaar is famous both around lunchtime and later in the evening. You don't get a table here if you come after one o'clock for lunch, or after half-past nine for dinner. Since here in Madrid, you usually eat dinner much later. Therefore reservations are generally not possible. 
The Bazaar stands in the trendy Chueca district. From the tables inside the restaurant, you can watch what's happening on the street outside.
Where: Calle Libertad, 21
Flamenco
The archetypal Flamenco may sound strictly in Seville, Andalucia, but you will find plenty of flamenco bars in Madrid, nonetheless.
Casa Patas is a tavern-style restaurant where flamenco dancers are part of the entertainment. That is not tourist flamenco, but authentic Flamenco with the best artists in Spain. Casa Patas is located in Canizares 10, a little south of Plaza Santa Ana.
If you have the time – and want – you can take a guided tour of the city. There are plenty of trips to join. For those of particular interest, we can mention Madrid's Baroque churches or Madrid's monasteries. There are also some fresher walks. How about visiting Madrid's best vantage point – by bike? Or visit Madrid's best traditional shops and tavernas? 
It is the Madrid Tourist Office that arranges, and most tours start at the Plaza Mayor tourist office. They do not cost much – 3-6 euros. The small problem is that the guided tours are only in Spanish.
Spanish Specialties
Olive oil, serrano ham, and manchego cheese should be on the shopping list when visiting the Spanish capital. Here are some useful addresses to find all these mouthwatering foods:
Pick and choose from Spain's best olive oils at Patrimonio Comunal Olivarero. The store carries 80 different brands, and you can find it in Mejía Lequerica 1, Tribunal.
Poncelet specializes in cheeses. Here you get everything from manchego to camembert and parmesan. And Not just Spanish cheeses. 
Visit the store in Calle de Argensola 27, not too far from the olive shop mentioned above.
Vinoteca Barbechera sells wine from all over Spain, and exports to the rest of the world, too. Vinoteca Barbechera has outlets in several locations in Madrid, including on the corner of Plaza Santa Ana (Calle Príncipe 27) and in Chueca (Calle Gravina 6).
A visit to one of the Vinoteca Barbechera sales outlets is a must. 
Swimming Pool with Views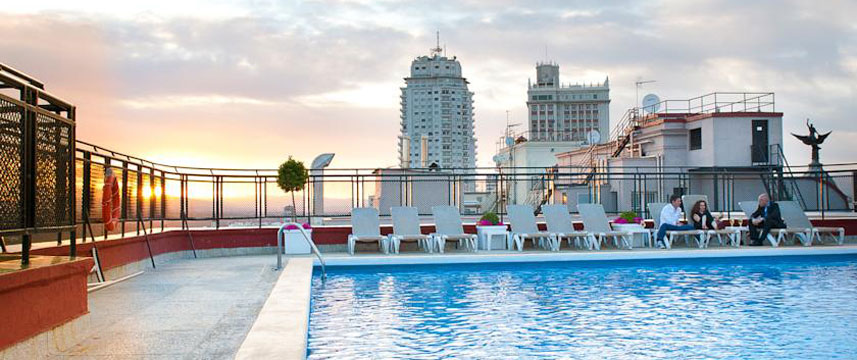 In summer, it can get hot in Madrid. If it becomes too tiring to stroll around the city in the heat, head to Hotel Emperador and swim and sunbathe on the hotel's rooftop terrace. Here is the city's most beautiful swimming pool, with a great view of the town. 
A bar and cafe make sure you don't miss anything while lying down and relaxing in the sun. Hotel Emperador is considered one of the better hotels in the city, and it is, of course, not free to use the roof terrace. Twenty-seven euros costs for one day, but it's more than worth it.
Note: The roof terrace is only open during the summer months.
Roof Terrace for Luxurious Tastes
Madrid's most stylish rooftop terrace can is at the top of Hotel Urban. It's a five-star hotel located a stone's throw from the Prado Museum. Sit down in one of La Terraza's white leather chairs and enjoy a drink as you gaze across Gran Via, the Prado Museum, and the rest of Madrid. 
Here Madrid's jet setters are frequenting, and that is evident in the prices. Sixteen euros for a drink is more expensive than in many other cities, but hey, you are on vacation!
Hotel Urban also has a rooftop swimming pool – which is also only open in summer.
A less expensive alternative (and a little more relaxed clientele) is at the roof terrace of Hotel de las Letras. The view is not as fascinating, but the drinks only cost seven euros.
In Conclusion
Madrid is inviting anyone with open arms to enjoy some of the best moments in Europe. Just walking through the historic streets will remind you of a turbulent past that builds this vast city. It will take away your breath with countless landmarks that are hiding around every next corner. 
And it's not just the monuments that shine above the iconic rooftops, but tapas and flamenco dancers that create fiesta feeling that can never be as great as it is. 
Enjoy your trip to this beautiful city and feel free to ask lovely locals to show you around everything that you want to know.