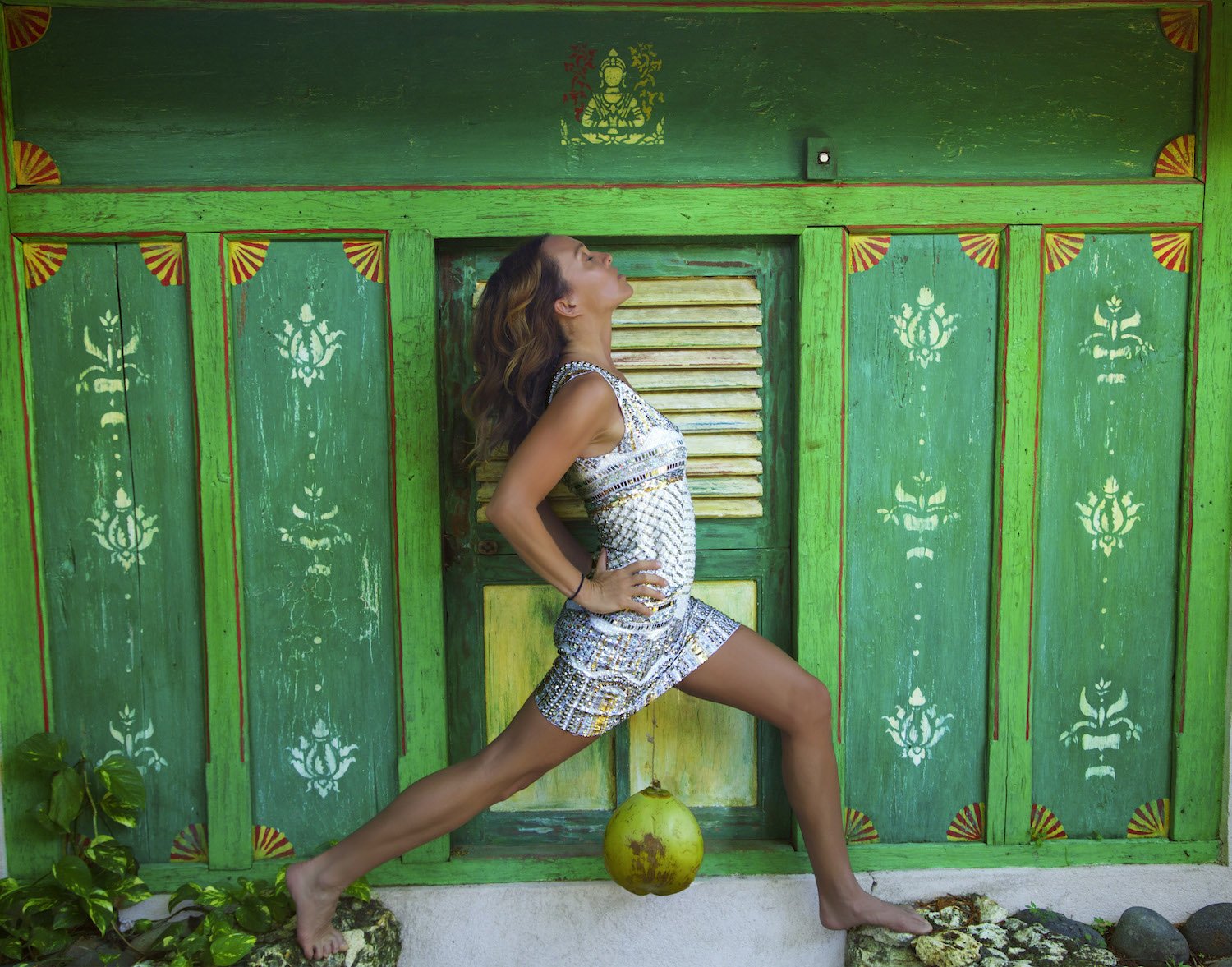 Clitoral orgasms may be enough to get you through the night, but for bed-shaking sexplosive orgasms, sex guru Kim Anami says you have to dig deeper — and it's all about living in the here and Tao. 
According to Taoist sexology, it is the cervix, or the opening to a woman's uterus nestled deep inside a woman's vagina, that is the magical door to achieving, as Anami calls it "gourmet sex" fireworks.
"Over the years one of my main messages has been the holy grail of vaginal meaning G-spot, squirting, and in particular cervical orgasms as essential good f–k medicine for all women," Anami explains. "These orgasms are far more pleasurable and powerful than their clitoral counterparts."
Kim Anami says many would be amazed at the range of reactions her ideas on clitoral orgasms evoke.
"Some people are curious [and say] 'Tell me more,'" Anami admits. "Others are skeptical and they have bought into the sexual misinformation that's out there [arguing], 'Science has never talked about this.' And others are incredibly angry that I would dare to suggest that these orgasms could be had by all."
While Anami says some have challenged her and insist all women aren't capable of such next-level orgasms, she insists life-changing climaxes are a reachable goal for all.
"If you are a woman who enjoys clitoral pleasure, that's great and I'm not shaming you — only the naysayers who hold on to the clitoris with a death grip, refusing to put it down and explore the holy land of the vagina," Kim Anami says. "The clitoris is a great appetizer and a warmup. It can get your juices flowing and prepare you for your journey into the ultimate alchemical crucible, which is the promised land of the vagina. But to think that it's the final destination is sheer sexual ignorance."
Anami claims those experiencing clitoral orgasms are still technically underf–ked. She insists the clitoris is merely the tip of the iceberg when it comes to reaching the big O.
"It's 10% of the sexual pleasure and power a woman can experience and 90% of all of the good stuff is in the vagina," Anami stresses. "And when I say power, I mean life-changing transformation that rebirths you into the most authentic, self-actualized version of yourself, kind of power. Once you experience it, you never go back."
So how does one reach orgasmic nirvana? Anami breaks it down into four suggestions.
Rub It In
"Wake up and de-numb the vagina through yoni massage," Anami says. "Explore and get to know every millimeter of your vagina and sexual self. All women suffer from some degree of vaginal numbness. Part of this is due to unresolved trauma, and some of it is due to women not being taught to properly exercise or pleasure their vaginas so they become weak and they atrophy."
Anami suggests taking one of her salon courses to master the art of yoni massage and learning how to map out different regions of the vagina, stimulate acupressure points, release tension, and transform your vagina into a sensitive and orgasmic portal.
Get Egg-cited
Kim Anami is a globally admired vaginal weightlifter who has perfected the art of strengthening her pelvic floor by inserting a jade egg into her vagina and attaching a string to it to lift different objects such as chandeliers, surfboards, and pumpkins. She swears by the practice of using a jade yoni egg and says jade eggs, not diamonds, are indeed a girl's best friend. 
"Nothing beats the jade egg when it comes to the best all-around tool to de-numb, activate, tone, strengthen, build orgasmic sensation, boost libido, restore and increase lubrication, and train for pingpong ball-shooting tournaments," she shares.
More Self-Pleasure Is a Hidden Treasure
Self-pleasure and plenty of self-exploration in the sack is an ideal route to more nourishing nookie, says Kim Anami.
"As you self-experiment with what feels good, and at the same time you are using a jade egg and yoni massage to feng shui your vagina and awaken it, you'll come to know your own pleasure zones and what arouses you," Anami reveals. "Your turn-on is like a muscle. You flex it and build it until it gives back to you in its strength and power. Think of your sexual energy like superfuel and your vagina as the charging station."
Release the Fear and Just Go Clear
When it comes to sexual blockages, Kim Anami shares that unresolved past issues can often rear their head in bed and lead to low libido, lack of lubrication, and other frustrating sexual problems. 
"If you are holding back, if you are afraid, if you are faking it, they won't come," Anami says. "If you are in full-throttled surrender, vulnerability, and honesty, they will explode inside of you, rocking you to your core and shaking the foundations of who you are."
Anami further describes vaginal orgasms as "joyous, ecstasy-filled, hip-swaying" episodes that can leave women feeling unstoppable. However, the sex coach warns it's something you have to be prepared for.
"If you aren't ready for that and you don't want it, you can stay in the kiddie pool of the clitoris," she says. "Or you can dive into the wide-open expanse of the wild, tempestuous, powerful sea of life that is your vagina."
In an episode of her podcast "Orgasmic Enlightenment," Anami covers the topic of vaginal orgasms in depth and interviews guests about it.
Her guest Sarah says she was pleased to discover she could enjoy G-spot orgasms with or without a partner after taking Anami's salon. She also confesses she lived two decades of her life without evening knowing a thing about the power of the cervix and had little knowledge of her anatomy on the whole. She says cervical orgasms have been spiritual, enlightening, and intense, and she now compares clitoral orgasms to something she might casually do.
"I just kept telling myself — and I know it might sound a little crazy — but I told myself, 'I am a multiorgasmic woman. I am a well-f–ked woman,'" says Sarah, who repeated this phrase to herself over and over. "If you train your mind to believe something, your body will follow. And then I would tell myself over and over again, "I have a woke-as-f–k vagina."
Kim Anami says she uses clitoral orgasms in lieu of a coffee buzz. "I use them for my coffee breaks. I talk about stimulating the clitoris, similar to what you're saying, to get a burst of energy, to get a hit," Anami adds. "I don't do coffee, I do orgasms."