Situated in Western India well up in the Western Ghats mountain range, Mahabaleshwar is a hill station that enjoyed popularity among locals as far back as the 13th century.
Image by Balaji Photography
With cool weather, waterfalls, gardens, and more, it is the perfect place to take a break from the heat of the lowlands during a trip to India.
In the article below, we'll discuss several of its best attractions so you can make best use of your time there.
Explore Mahabaleshwar Temple
After you have gotten settled in one of many Mahabaleshwar hotels, make the Mahabaleshwar Temple your first destination. Dating back to the 4th century, this Hindu hall of worship is a popular destination for pilgrims from around the country.
Built of granite and built in the Dravidian architectural style, it is a breathtaking structure that will capture your imagination, especially when you get a look at the image of Shiva within. Dated at over 1,500 years old, it is a piece of history you won't want to miss during your time in Mahabaleshwar.
Stroll through Mapro Garden
Next, calm your spirit by spending some serious time in Mapro Garden. Travel in India can grate your nerves even on the best of days, so it's imperative to take care of your psyche on a daily basis.
Checking in at this attraction will do the trick, as its endless rows of strawberries will treat your nose and taste buds to pure bliss. If you are lucky enough to visit during the Strawberry Festival, you'll be treated to dishes made from this succulent fruits, as well as live performances by local folk artists.
Enjoy the view from Arthur's Seat
Being in the mountains, Mahabaleshwar has more than its share of spectacular views. However, the vistas available from Arthur's Seat are truly magnificent, so don't neglect to drop by during your travels.
The views draw comparisons to the Grand Canyon, and with plenty of food stalls around, you won't have to worry about snacks if you get hungry. Just be mindful of monkeys during your time here, as they know tourists will often have food, so they will try to steal it from you.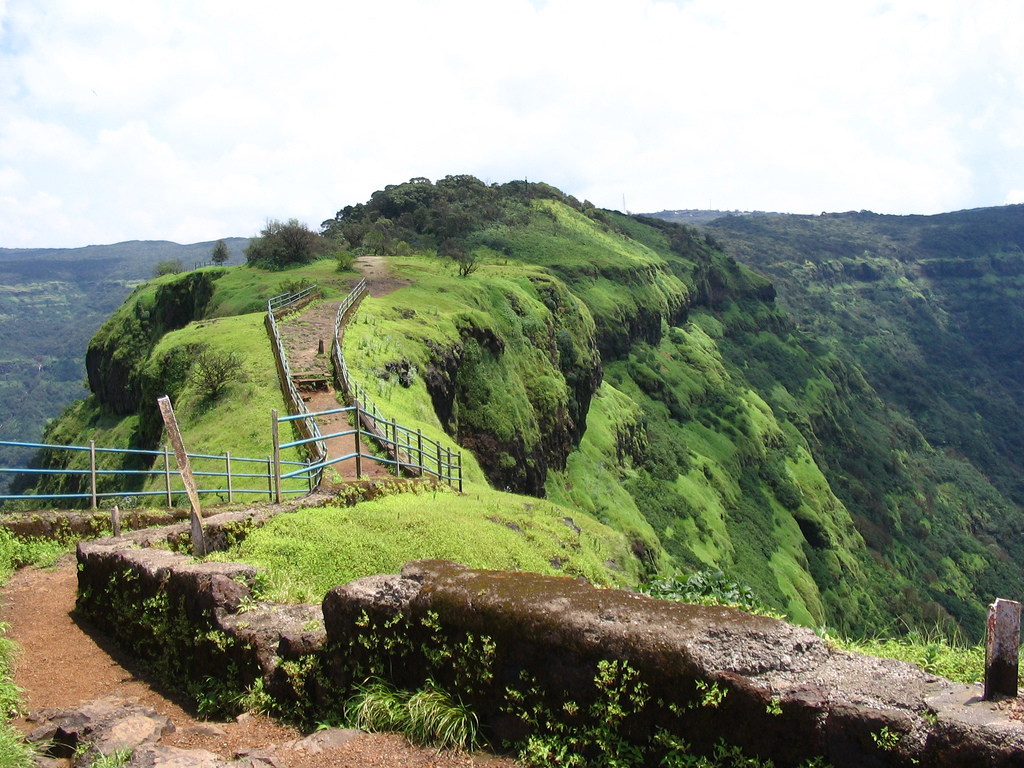 Image by Ankur P
Feel the power of Lingmala Waterfall
Being a hill station, Mahabaleshwar is home to more than a few waterfalls within a short distance of its townsite. Of all of them, none hold a candle to the power that Lingmala Waterfall puts off.
Especially during rainy season, the volume of water going over the side is absolutely gobsmacking, so aim to arrive here during this time or immediately after it ends. Bear in mind the entrance fee, which is only 15 rupees.
As annoying as this can be, it helps the local authorities keep the site clean, and it helps benefit the local economy.