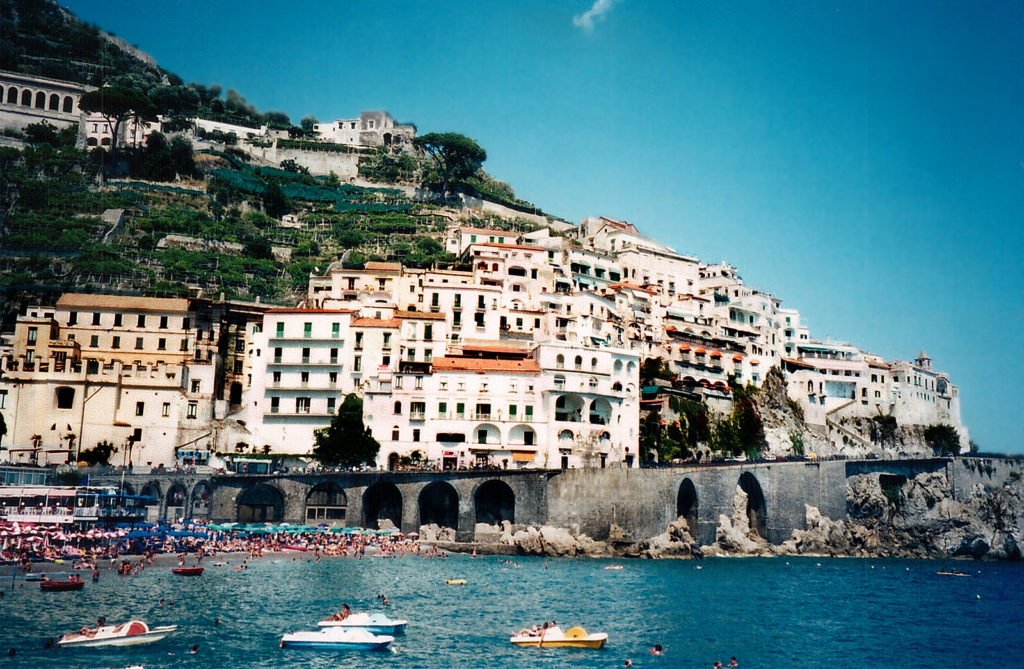 The Amalfi Coast is a stretch of coastline measuring about 50 kilometers along the Southern shore of Italy's Sorrentine Peninsula. This Mediterranean region is so beautiful, it has been awarded the World Heritage Site classification by Unesco. Around 5,000,000 tourists visit the region each year. Lets talk a little about what makes the Amalfi Coast such a great vacation destination:
Amazing Vacation Rentals
People are looking less and less towards hotels, and more towards vacation rentals for their holidays, and for good reason too! The beautiful Amalfi Coast villas that are available for rent feature pools and stunning views, not to mention full kitchens and other comforts. Staying in a rented villa is the ultimate way to experience the Amalfi Coast at ease.
Unparalleled Beauty
Unesco doesn't award World Heritage Site status to just anything, and the Amalfi coast doesn't disappoint. This region is characterized by its dramatic cliffs and plunging mountains, the sparkling ocean, and the personality packed little fishers towns surrounded by lush forest. Vineyards grace the land with their vines, and lemon plantations are abundant. Beautiful Italian Villas are spotted along the hills. The beauty of this mountainous coastline makes it a great location for hikers, and the hiking paths are well marked and maintained. For folks who aren't much into hiking, the stunning views are also well admired from the terrace of one of the regions many cafes.
Beaches You Won't Want to Leave
Spiaggia di Cauco is a tiny beach located between Torre Cerniola and Terre del Tummolo. This beach has gorgeous clear water, and his surrounded by sharp cliffs. The cliffs make it so that the beach is only accessible by boat!
Another interesting beach is the beach of Furore. this small beach hides behind a giant fjord, so the sun only graces the beach with it's soft rays during the late afternoon. This makes this small beach the perfect spot to enjoy the afternoon sunshine while having an Italian style aperitif. To get here, either walk down the steep rocky staircase from the ss163 highway, or arrive by boat.
One of the very few beaches on the Amalfi coast that are actually sandy, the beach of Vietri sul Mare is absolutely beautiful! This beach is great for families or for those looking for a beach day that doesn't involve a hike. This beach is easily accessible by car, and pleasantly large. The ocean is equally blue and clear, and the view of the sea is nice and open.
The Weather is Lovely
When booking a vacation we always hope to encounter good weather during our stay. On the Amalfi Coast, the weather is usually really nice, so your chances of sun on your vacation are pretty strong!
The region features a typical Mediterranean climate, and even in the winter the temperatures are mild and the sun peaks through with frequency. If you're visiting for Christmas, a good windbreaker and a light sweater will probably be enough to keep you feeling comfortable.
The months of July and August are definitely the hottest, and if you plan a visit for during these months you'll want to be sure your accommodation is air conditioned because the nights don't cool off much either.
During the spring and early summer months the weather cant be beat if you're after sunny beach days! The average high temperature during May is 22 degrees Celsius, and the average high temperature for the month of June is a perfect 26 degrees!
Delicious Food!
Italians don't normally eat heavy breakfasts, but they definitely don't sacrifice taste! A typical breakfast along the Amalfi coast will be an espresso coffee, pared with either a cornetto (the Italian take on a croissant) or a sfogliatella which is a deliciously sweet and flaky pastry filled with ricotta. Pair this with some regional fresh fruit and you're day should be off to a pretty great start!
As in many Latin cultures, lunch in Italy is the main meal of the day and is typically served slightly later, around 2. Enjoy lunch like a local by tasting some spaghetti alle vongole (pasta with clams), suppli di riso (fried balls of rice) or oven fresh pizza. For a lighter meal, an insalata caprese made with vine ripened tomatoes and fresh mozzarella is a delight.
After lunch, head out to one of the numerous bars to enjoy take part in Italian Aperitivo culture. Included with the price of a drink comes access to a bar full of tasty snacks.
More: Italy's Amalfi Coast – Vacations of a lifetime
La Cena (dinner) is typically lighter than lunch, and is served late – between 7:30 and 11 pm. Buon appetito!
It's safe to say that between its delicious food, stunning landscape, great places to stay and lovely weather, the Almafi Coast is a vacation destination that can't be beat!
You might also enjoy: Things to see and do in Bryce Canyon NP